State Projects and Programs
State agencies are working together through the Louisiana Watershed Initiative to ensure coordination and alignment of planned programs, activities and project development regarding flood risk reduction. As part of this effort, several projects and programs can be funded immediately to establish a more comprehensive flood mitigation strategy in Louisiana. The state will award funding to these projects in phases, as part of its Action Plan to spend $1.2 billion in federal flood mitigation funds. The projects align with the Action Plan and LWI's long-term resilience objectives, including natural flood management, regional retention/detention and critical infrastructure projects.

First Phase
$163 Million

In CDBG-MIT Funds for 15 Projects
State agencies coordinated to determine project awards that further agency missions and LWI resilience objectives. The Office of Community Development is the granting agency of these funds, responsible for determining project eligibility and alignment with the state's Action Plan.
These projects will reduce flood risk in communities throughout the state, store floodwaters in ways that enhance natural habitats and move people in flood-prone areas out of harm's way.
Project Selection
State agencies identified projects aligned with their missions, plans and LWI resilience objectives by submitting applications to OCD detailing project scopes, proposed budgets and implementation plans. Project types include dam, flood control, drainage, critical infrastructure, nonstructural mitigation and capital improvements. The projects must meet the following criteria:
Reduces flood risk in a project benefit area or supports analysis to optimize flood risk reduction for projects in design stage

Features an eligible activity and advances a national objective

Does not increase flood risk in surrounding areas

Addresses project long-term operation and maintenance needs
In addition, OCD will prioritize projects that are designated as an urgent or prioritized need by a state agency, enhance the natural and beneficial functions of floodplains, improve habitat or vegetative conditions within or near a wildlife refuge, benefit HUD-identified most impacted and distressed areas or benefit multiple jurisdictions.
View Program Policies and Procedures
---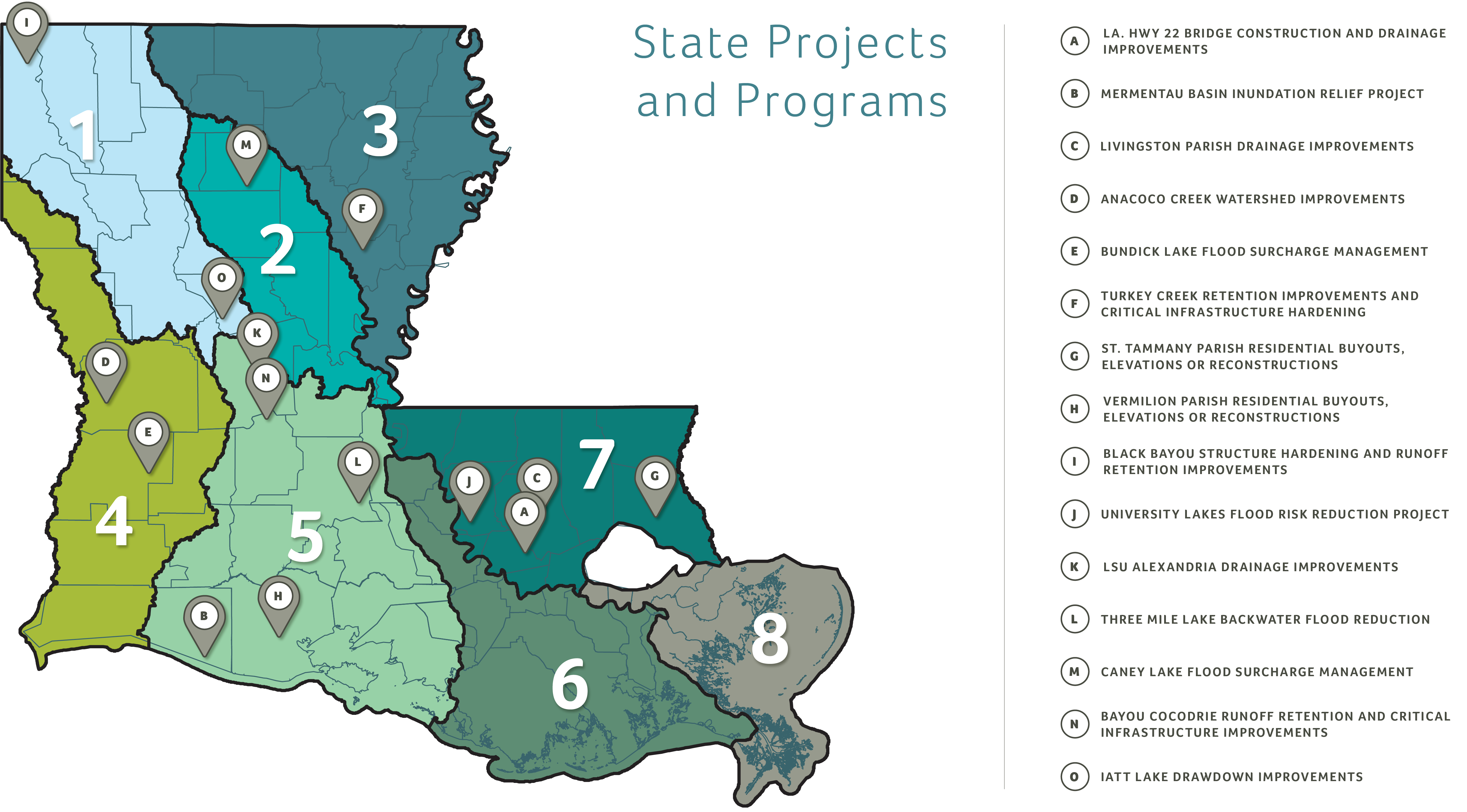 Project Resources
View the State Projects and Programs Overview
Project Category Summaries
The documents below provide more details on the types of projects funded by this program. Click the links to learn more.
Project List
| Parish | Watershed Region | Award Amount | Project Description |
| --- | --- | --- | --- |
| Ascension and Livingston parishes | Region 7 | $42 million | Excavation of two drainage basins through La. Hwy 22 and construction of two new bridge structures which will reduce water surface elevation on the Amite River and restore flows into the McElroy Swamp. |
| Cameron and Vermilion parishes | Regions 4 and 5 | $25 million | Mermentau Basin inundation relief project, which will link existing drainage laterals along La. Hwy. 82 to convey stormwater north of the highway, widen downstream channels and install new gates at the East End Locks and other drainage features to manage the additional flow and enhance flood storage within the basin |
| Livingston Parish | Region 7 | $15 million | Livingston Parish drainage improvements, which will involve lateral drainage work to reduce floodwater inundation, including reshaping eroded banks, repairing levees and other structures and removing debris from about 145 miles of stream channels that connect to the parish's previously cleared waterways |
| Vernon Parish | Region 4 | $14.3 million | Anacoco Creek watershed improvements, including spillway modifications and gate installations on both Vernon Lake Dam and Lower Anacoco Lake Dam that will allow for rapid drawdown of the lakes prior to a forecasted event |
| Beauregard Parish | Region 4 | $12.89 million | Bundick Lake flood surcharge management, including spillway modifications and new gate installations that will allow for rapid drawdown of the lake prior to a forecasted event |
| Franklin Parish | Region 3 | $10.2 million | Turkey Creek retention improvements and critical infrastructure hardening, including modifications replacing the existing spillway with a concrete chute spillway that has integrated gates for lowering the water level of the lake and hardening the embankment |
| St. Tammany Parish | Region 7 | $10 million | Buyouts, elevations or reconstructions of residential properties in flood-prone areas |
| Vermilion Parish | Region 5 | $10 million | Buyouts, elevations or reconstructions of residential properties in flood-prone areas |
| Caddo Parish | Region 1 | $6.6 million | Black Bayou structure hardening and runoff retention improvements, including replacing the existing spillway with a concrete chute spillway that has control gates to manage the lake level, along with hardening to reduce risk of damage to critical infrastructure (La. Hwy. 2, water line and fiber optic line) during significant runoff events |
| East Baton Rouge Parish | Region 7 | $5 million | University Lakes flood risk reduction project, which includes the excavation and/or dredging of four of the six lakes (City Park, Erie, Campus and College lakes); the removal, improvement or construction of flood control structures; and earthwork and/or grading to improve drainage and reduce flood risk to surrounding areas |
| Rapides Parish | Region 5 | $3.7 million | LSU Alexandria campus drainage improvements, including the installation of underground drainage piping, structures and sidewalk trench drains to alleviate flooding impacts in low-lying areas and improve the conveyance of stormwater to the recently constructed drainage canal |
| St. Landry Parish | Region 5 | $2.97 million | Three Mile Lake backwater flood reduction, including the installation of a closure structure across Two Mile Bayou, construction of a dike along an existing driveway on the west side of the development and replacement of three pipe drainage structures with adequately sized pipe structures that have flap gates to prevent backwater flooding |
| Jackson Parish | Region 2 | $2.75 million | Caney Lake flood surcharge management, including modification of the existing dam and spillway structure to provide additional management gates, which will allow lake drawdowns in advance of forecasted events to provide additional storm storage within the lake basin |
| Rapides and Evangeline parishes | Region 5 | $2.2 million | Bayou Cocodrie runoff retention and critical infrastructure improvements, including replacement of an existing single-gate pipe structure with a multiple-gate pipe structure that allows for lake drawdown and provides for minimum flow during low-flow conditions |
| Grant Parish | Region 1 | $1.1 million | Iatt Lake drawdown improvements, including the replacement of one of the existing sluice gates and installation of a new weir gate allowing lake drawdown preceding a forecasted storm event and allowing the water to discharge into the Red River prior to the peak stage |
---
For more information on this program or the projects listed, email watershed@la.gov.